We had another useful RSuite User Group Online meeting last week, so here's a quick synopsis for those who missed it.
What's the RSuite User Group?
| | |
| --- | --- |
| | If you're not aware, the RSuite User Group (RSUG) is a community of front-line users, IT staff, executive management, and industry consultants with a shared interest in RSuite. |
RSUG meetings are open to active RSuite clients, selected partners, and consultants working with active RSuite clients. This group meets online every other month to discuss new developments, product enhancements, and questions related to our technology.
New RSuite LinkedIn Group
One of the announcements in yesterday's meeting regarded the creation of the new RSuite User Group LinkedIn Group. If you are a member of the RSuite Community, we welcome you to join by clicking the button below:
RSuiteUC17 Preview
Barry Bealer, Corporate Executive VP, provided a high-level overview of the upcoming RSuite User Conference in September. Some of the highlights of this year's event include:
Client Presentations: featuring the AMA, Macmillan, StayWell, The IET, and others.
Lightning Round Demos: 7-minute demos of fascinating new features and functionality in RSuite
Technical Training: including sessions on Semantics, Visualization, RSuite Edit, and RSuite Publish.
Early Bird registration ends August 7. Visit the RSuiteUC17 page for more details.
RSuite 5.3 Preview
Lisa Bos, Corporate EVP of Content Management Software, next provided a presentation of what's "On Deck" for RSuite – version 5.3. A key feature of 5.3 is the incorporation of Semantics, which leads to better metadata/data management and ultimately better content management.
Lisa gave a lesson on the basics of semantics, including foundational information regarding concepts such as triples, graphs, and taxonomies, as well as some of the benefits of semantics for publishing.
Other key features of 5.3 will include:
Powerful new possibilities for linking data
Means for managing "unmanaged" data
A new and vastly improved Admin user interface
RSuite clients and partners interested in learning more about RSuite 5.3 can log a ticket or start a forum on the RSuite Community Site.
---
A recording of the session is available for members of the RSuite Community. Contact dturner@orbistechnologies.com if you are interested.
---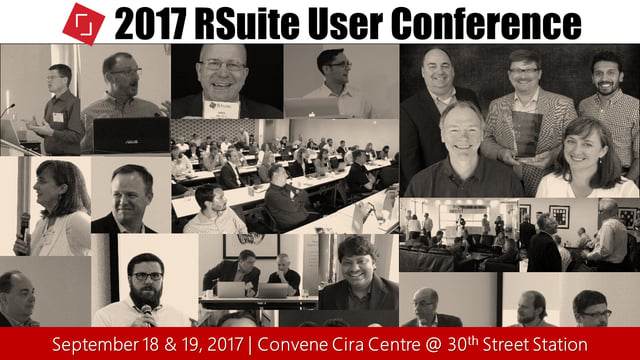 Early bird registration ends August 7, so register now!