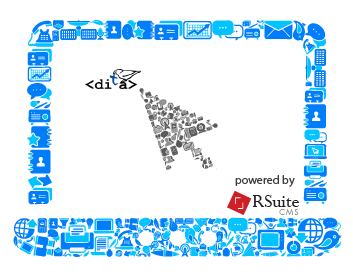 At the 2012 RSuite User Conference on September 20th, attendees will hear how the following people are using the powerful combination of RSuite CMS and DITA.
Publishing standards are intended to streamline data interchange and make the lives of publishers easier. But there are so many standards (and standards for standards) that it's hard to keep track of what's important, which standards are emerging, and the usefulness to an organization. Chet Ensign, director of standards at OASIS will speak to the array of publishing standards in use today and zero in on one standard that is helping publishers transform structured content to designed content.

RSuite CMS and the open source DITA for Publishers project (based on the DITA standard) streamlines the creation and production of content to multi-channel publishing formats, including InDesign, variable XHTML, PDF, EPUB, and MOBI.

Hear how Human Kinetics Publishers and Macmillan Higher Education are using this powerful combination: RSuite CMS and DITA.
Moderator: Chet Ensign, Director of Standards Development, OASIS
Holly Gilly, Vice President of Product Development,
Human Kinetics Publishers
Chad Crume, Director of Content Strategy,
Macmillan Higher Education
Eliot Kimber, Senior Solutions Architect, RSI Content Solutions
Paul Eisenberg, Director of Professional Services Engagements,
RSI Content Solutions