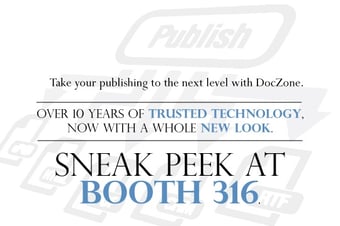 DocZone, a component content management system for technical publications, unveiled their new user interface at booth 316 the STC Technical Communication Summit in Columbus, OH. This latest version of DocZone provides an entirely new user experience through an intuitive user interface that minimizes actions required to store, search, tag and reuse content while allowing users to quickly and efficiently publish their technical documents to multiple formats and languages.
"DocZone has been a trusted industry leader for over 10 years," stated Marty Wetzel, Director, Global Account Management at RSI Content Solutions, the makers of DocZone. "This new interface gives DocZone a fresh and modern look that I'm sure our clients and prospects will appreciate."
"We chose the STC Technical Communication Summit as our launching pad for the new interface because we see this conference as one of the marquee events in the technical publishing space," continued Wetzel. "We are excited for the opportunity to demo DocZone at the conference and expect a great turnout at the event."
For fifteen years, RSI Content Solutions has been a trusted content management solutions provider for both traditional and technical publishers alike. Learn how organizations with technical publishing needs like Citrix, Epson, ITT, Cummins, Kyocera, and many others use DocZone at www.doczone.com.