---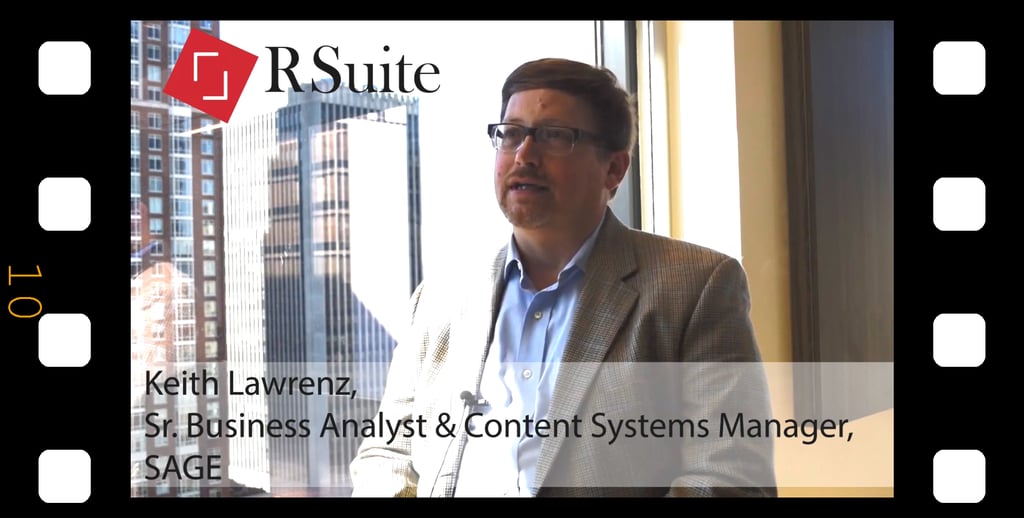 After seeing the updated interview with Keith Lawrenz of SAGE, I just had to comment. As an RSI Project Manager, I've seen first-hand the amazing results SAGE has achieved with RSuite:
Processing and delivering 5 times as much content as 10 years ago, with almost no added staff
Ingesting, validating, and delivering 140,000 items each month
Managing and supporting 1.8 million journal articles, more than 10,000 books, and all the graphics for those books, using 3 different DTDs.
Yes, RSuite is a fantastic technology, but it takes more than good technology to get these types of results. Here's an inside look at what this exceptional organization does to get the most from its investment.
RETHINK
When conducting an upgrade project, it usually seems to make the most sense to migrate the old to the new and move on—making as few changes as possible and focusing on getting it done.
But that's not how it works at SAGE. They see an upgrade as an opportunity to re-envision workflows, to relentlessly pursue new and better ways to use the system. The team at SAGE talks to the business, monitors key industry trends, and re-thinks everything.
As a result, SAGE is always ready for the next new initiative. Here are a few recent examples, all empowered by the RSuite team and technology:
Changing client-facing platforms with minimal effort, thereby saving more than $1,000,000
Reusing content created for other purposes to generate new eBooks with zero manual intervention
Launching a new revenue stream like SAGE video
Packaging all the articles related to a single topic from all 1000 journals (summarized by journal and summarized by year) in less than an hour
PARTNER
It's most common for IT to take the role of "customer," always following and reacting to the product roadmap of the vendor. However, SAGE views itself as a "partner" and works side-by-side with RSI at all times. The RSuite team at SAGE has learned the system inside-out and stays active in the community. SAGE wants RSI to be successful, so its people speak at our events, invite us to speak at their events, and travel across time zones to attend our annual user conference.
And they give us great quotes:
"RSI and RSuite have grown with SAGE." (Keith Lawrenz)
"RSuite has made some of our time-consuming and manual processes automated with an added layer of quality control." (Sal Hewavita)
"RSI has been able to meet our changing needs over the last ten years. The staff at RSI listen, respond and work with us to successfully meet the needs of our business." (Tracey Ryan)
"I like that RSuite workflows automate what I don't have to do, RSuite UI allows me to efficiently accomplish what I cannot automate, and RSuite professional services helps me to know the difference." (John Cooper)
EMPOWER
Finally, SAGE sets itself apart in that team members are always empowered to make decisions. Teams work best when they are staffed by a small number of people who can represent the company's needs. SAGE has dedicated IT staffers who bring a detailed knowledge of SAGE business needs and a thorough understanding of RSuite. That combination makes a project manager's job very easy!
---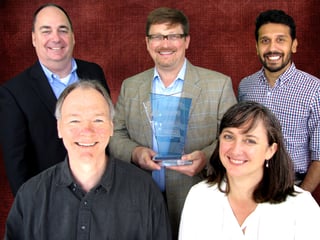 SAGE accepts a plaque from RSI to commemorate 10 years as a client.
Back row, (l to r): Barry Bealer (RSI), Keith Lawrenz (SAGE), Sal Hewavita (SAGE)
Front row: John Cooper (SAGE) and Lisa Bos (RSI)