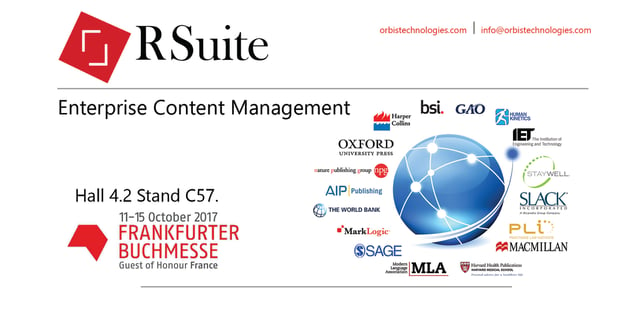 Annapolis, MD – Next week, the Orbis Technologies, Inc. team will once again exhibit at the Frankfurt Book Fair in Germany to showcase the brand new version of RSuite, the award-winning Enterprise Content Management solution. Leveraging the power of the underlying MarkLogic database, RSuite 5.3 provides semantic data management and embeds content visualization, which enhance its enterprise-strength content management and publishing automation capabilities to provide a best-of-breed publishing solution.
To learn more about RSuite's latest innovations and see a demonstration at the Book Fair, please stop by Stand C57 in Hall 4.2, or contact us to schedule an appointment.
About RSuite®
RSuite® is the MarkLogic-based enterprise content management solution optimized for the creation, management, reuse and delivery of multi-format, multi-channel content. It combines the power of the MarkLogic platform with an enterprise‐strength workflow engine, a fully-integrated authoring and editorial interface, and an automated composition engine to support both print and digital outputs. For more information, please visit https://www.orbistechnologies.com/rsuite.
About Orbis Technologies, Inc.
For over a decade Orbis Technologies, Inc. has been a leader in building and deploying mission critical content and information management solutions. Beginning as a DoD software solution provider in 2006, Orbis continues to expand market presence to Fortune 500 businesses, Federal agencies, and global publishers and media companies. Our disciplined approach to software solutions and product development has afforded us the opportunity to work with premier clients around the world. We firmly believe in structured software solution development methodologies and hold ourselves to the highest standards to deliver quality products, services, and solutions that fully meet or exceed our customer requirements.
Orbis is headquartered in Annapolis (MD), with additional offices in Audubon (PA), Orlando (FL), Vienna (VA), and Chennai (India). The company may be found on the web at www.orbistechnologies.com.